The advancement in technology and the expansion of digitalization have developed many new solutions without which, Enterprises can't imagine their daily basis one of them is  what we today called chatbot.
We're interacting with chatbots every day  in some cases we are even not aware of that. These virtual assistants can accelerate every task they take on, from personalized support to marketing, lead generation, sales, customer support, flights booking, and many more. And best of all – they're always available and ready to serve.

As a matter of fact, people spend more and more time on messaging apps and social media. Latest researches show that over 1 Billion users use messaging apps, your business needs a new dimension of communication with them.

At the most basic level, chatbot is a computer program that simulates and processes human conversation (written or spoken), enabling people to interact with digital devices as if they were communicating with a real person. Chatbots can be simple, like programs that answer single-line questions, or complex, like digital assistants who learn and evolve to provide a higher level of personalization as information is collected and processed.

You can find chatbots in messaging apps on smartphones for personal use or on company websites for business use. A well-optimized chatbot can be a great addition to a company's website because it can help to boost your conversion rates.

WHAT ARE THE BENEFITS OF CHATBOT
EXPANDING CUSTOMER BASE
Chatbot brings the opportunity to create a customer base. It collects information needed to personalize company's messages and offers through short questions and customer choices. The bot works constantly, so you need to be patient until customer base is created. Then it is much easier to plan your company's marketing campaigns without major time spending!
 Customer Engagement
Companies that care about customer involvement in their brand are already trying to use chatbots for customer engagement.  Chatbot allows to create another stimulus that will not only attract the customer, but will allow to increase the experience, which on the other hand will strengthen the brand image. You can imagine that your bot will have a function that will give your customers news or useful information related to your industry. This in a very discreet way will consolidate your relationships with the client.
 cost optimization
Chatbot is the perfect solution to optimize the costs you have for customer service. Chatbot can serve many clients at once, it will be available without interruption and without queue. Service alone is not everything - if you want to send information about a promotion, sale or competition using a bot, it can be done in a very easy and free way. Implementing chatbot is quick and much cheaper than creating applications or systems for handling correspondence.
INCREASE CUSTOMER SERVICE EXPIERIENCE
Surveys show that, depending on the business, 40% to 80% of online shoppers need support when making a purchase. When using chatbot, the time of day will not matter, the customer will always be able to receive information about your products, delivery costs or in matters related to returns. The interaction will be immediate - the customer will be able to make contact at any time, not like the hotline or email.
INCREASE EMPLOYEES SATISFACTION 
Chatbot will relieve employees of repetitive, monotonous tasks, thanks to which they will be able to focus on a different type of work. In this way, robots save the time of employees and increase their productivity, because such people are already supported by automatic machines to handle e.g. frequently asked questions by consumers. In addition, chatbot does not overtire, does not linger, it automatically performs its tasks.
 EASY scalability AND Maintenance
A well-designed chatbot works in the same, consistent way on many platforms, 24 hours a day, 7 days a week, with virtually no limits on simultaneous conversations. The emergence of new applications does not require significant reprogramming of chatbot, all you need is integration with the API. This is a tangible advantage that allows you to save time and money during the expansion of sales channels and their subsequent maintenance.
Competition chatbots
They allow you to skip filling out long application forms in your browser - the user can answer a few simple questions or perform a competition task without leaving the application. After the contest, chatbot will send notification of winning, for example.
LEAD CHATBOTS
They ask about user preferences, provide information and ask to leave contact. This type of chatbot can be implemented in each company.
Information chatbots
They push content via various social media channels in the form of push notifications. Informational bots push content as it becomes available. They can also be personalized to provide helpful information.
Booking chatbots
They sign up users for events or order rides. Chatbots allow integration with external systems, e.g. Google calendar.
Chatbots for customer service
They answer the most frequently asked questions of customers. In situations where chatbot doesn't know the answer, it refers to a consultant.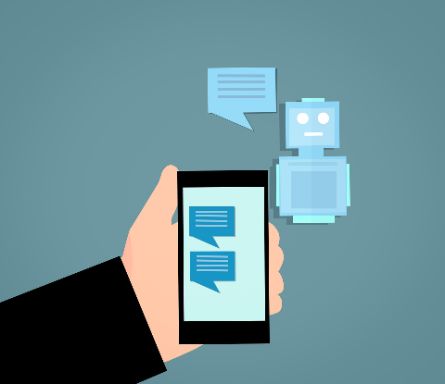 TYPES OF CHATBOTS WE OFFER
Analysis and design
Analysis of company needs
fit to COMPANY requirements
aligned with sector STANDARDS
design to integrate with all systems
design according to best practice
advise on technology choice
Development and Implementation
WORKING IN AGILE Methodology
PERMANENT CLOSE CONTACT
 expandable design

quick implementation
INTEGRATION WITH EXISTING SYSTEMS
Documentation
COOPERaTION AND SUPPTORT
Display Advertising
App & Icon Design
Analysis & Consulting
Google AdSense
Social Media
Google/Bing Analysis
CHATBOT AS A SERVICE
Google AdSense
Social Media
Google/Bing Analysis
Google AdSense
Social Media
Analysis & Consulting
TECHNOLOGY WE HAVE USED SO FAR
Contact Us
Get in touch
Do you have any questions? Do you need more information? 
Go to the contact form and send us a message. 
We will answer as soon as possible.
Address:
Diamante Plaza Krakow
Jana Dekerta 24
 30-703 Kraków