TOp reasons for failed digital transformation
HOW not to implement DIGITAL TRANSFORMATION wrong
Practice shows that new solutions are mostly introduced as a result of bottom-up initiatives. Specialists or managers of selected departments postulate for changes that will improve the work of their team. They are assessed by the directors based on the obtained results. Therefore, they see great potential in new technologies. Especially in digital transformation services. Solutions such as the
automation of business processes
or
artificial intelligence
aren't only facilitators for them. Managers perceive them as optimization and acceleration of the services.
Managers are required to prepare reports and analyze the results. Such tasks show them the needs of the team, customers and the company's infrastructure. Business continuity is one of the elements of the company's survival in the market and strengthening the competitive position. Stagnant solutions do nothing but slow down the company. Our clients confirm that faster service delivery leads directly to greater customer satisfaction and the greater profits.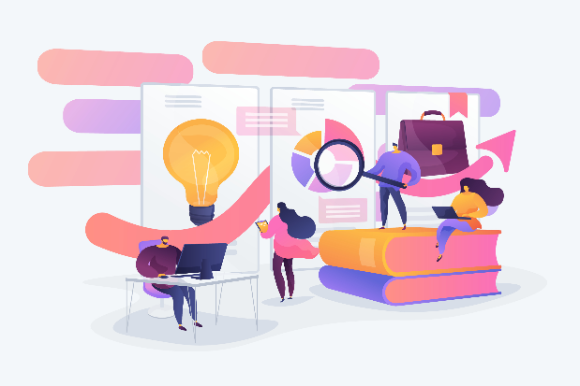 INTELLIGENT AUTOMATION
The robot doesn't deviate from the adopted standards but it carries out step-by-step operations for which it has been programmed. Thanks to artificial intelligence, it can improve them. Managers carry out ongoing control over all changes. And as needed, they introduce changes to digital transformation solutions.

team work ON
THE DIGITAL STRATEGY
Changes in the company require determination on the part of managers and managers. They must be thought out and run following the adopted goals of the organization. In many companies, managers are responsible for performing operational tasks, controlling their team and correcting mistakes. All these tasks are time-consuming and quite repetitive. Digital transformation solutions are of great help. They relieve specialists and their teams from performing schematic tasks, such as segmenting e-mails or preparing reports.
WHAT ARE THE ARGUMENTS FOR A COMPANY'S DIGITAL TRANSFORMATION?

One of the solutions for digital transformation may be handing over the process of preparing reports to the robot
What will the robot do during this process?
Collect data
on selected aspects
of your business
Summarize
the amount of time spent
processing data
Make calculations
in programs
and spreadsheets
Indicate selected results
of the work carried out
in selected departments
What factors determine the introduction of changes to a developing organization?

- The frequency of performing repetitive tasks
- The ratio of the number of schematic tasks to creative tasks
- Number of tasks performed manually
- The complexity of the process
- Duration of the process
- The frequency of errors
- Possible deviations from the execution of the process
- Relevance of the process to the entire organization
- The frequency of updating and improving the process
- Degree of infrastructure development and stability

Automation is not only a fashionable trend. It becomes a determinant of efficient and effective operation. It enables integration with other digital transformation solutions.

Are you planning changes in the company's strategy?
We will help you create and manage IT projects according to the best practices.

Do you have any questions? Do you need more information?
Go to the contact form and send us a message.
We will answer as soon as possible.

ADDRESS:
Diamante Plaza Krakow
Jana Dekerta 24
30-703 Kraków